Artiv Photo Tiles is a mobile app that can create 8"x8" (re)stickable photo tiles.
Check out our video to see how Artiv Photo Tiles APP work!
Step 1. Download and Open Artiv Photo Tiles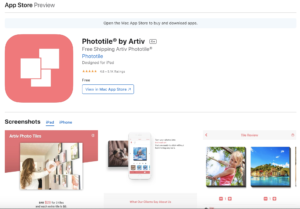 Step 2. Select Photos from different Media
You can select photos from your camera roll, Google Photos, Facebook, Instagram, or our handpicked stock photos.
*The printing quality of the product depends on the resolution of the photos uploaded. Please make sure the photo resolution be at least 600 x 600 pixels, or you may get blurry and grainy print results.

Step 3. Select side color

Select Black / White blocks to create perfect layouts.
Step 3. Edit Photos: Cropping and Filters
On the Review & Adjust page, you could select any photo to adjust which part to be printed. We also provide filter function only in the app (not available on the website editing).
That's it! Just wait for our FREE & FAST shipping.
Artiv Photo Tiles is proudly made in the USA and shipping is always free.
Most Read
Does Artiv Photo Tiles ship to Australia, Canada, France or Germany…?
Frequently Asked Questions of Phototile®
Artiv Photo Tiles Could Help You Achieve Your New Year's Resolutions