There are so many "photo tiles" out there on the market, how do you know which one is the best one to buy from? With so many companies, such as Freex Photo Tiles and Mtiles, are you sure you are getting the best value for your money?
Why choose Artiv Photo Tiles?
After multiple trial and error processes, we have finally figured out an affordable and high-quality product that we are proud to introduce into the market. Many photo tiles on the market are made with cheap styrofoam tiles that have exposed and unfinished foam on the sides.
Besides, for us to keep our photo tiles affordable for our users and future customers, it took us many years to finally come out with a perfect solution and product that has both smooth and solid sides.
Artiv Photo Tiles is not the first one to come out with photo tiles and will not be the last.

As you can see here Artiv Photo Tiles has over 5000+ reviews with an average of 4.8 stars. We are one of the few companies that continue to improve our products and services.
We did not improve our product for no reason, we did extended research and found out a lot of people who had bought photo tiles were unsatisfied with the unfinished and exposed foam sides. Therefore, we made the change.
However, to provide a better product to eliminate the problem with the sides, we had to suffer a cost increase within our production. But we did not pass down the cost increase to the users. We did not increase the price of our new and improved product. we have absorbed the cost as a company.
Artiv Photo Tiles is the only company that provides both smooth and solid photo tiles
As a result, we are proud to say that we are the only company that provides this unique product of re-stickable photo tiles with finished sides that are both smooth and solid. Moreover, our price stayed the same, just check out our website for more information: https://artivphototiles.com
Some of our competitors.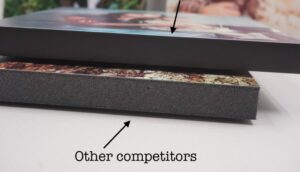 Artiv Photo Tiles Product Features
Besides smooth and solid sides, check out the product features we take pride in.
Re-stickable photo tiles that do not require nails and/or hammer to display on your walls.
3 photo tiles for $28, each additional tile for $8.
Free and fast shipping (with tracking number).
Proudly made in the USA.